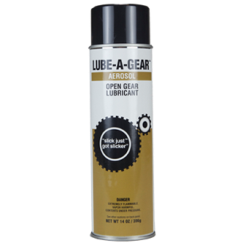 14oz aerosol
p/n 010108
LUBE-A-GEAR is an open gear lubricant made with high quality residual stock and extreme pressure additives. This formulation is diluted with a flammable solvent that evaporates rapidly. The residue that is left on the gear surface is a tacky film that will not harden or flake off even at low temperatures. This grease will promote greater gear protection and is easy to apply under diverse conditions.
Applications: Cranes, Draglines, Hydraulic Excavators, Aerial Lifts, Other Types of Heavy Industrial Equipment with Rotating Bearings, Semi-Enclosed and Open Gears
Benefits
Easy to apply
Excellent adhesion to metal surfaces
Film provides lubrication and cushioning of gear teeth
Resistant to water washout corrosion
Extends gear teeth life
Applicator tube supplied, allows pinpoint accuracy when required
Extreme pressure and anti-wear properties
View Safety Data Sheet
Download our complete Product Brochure
Download Product Weights & Dimensions Chart
LUBE-A-GEAR AEROSOL can be purchased through our dealers nationwide.