Satisfied customers of the LUBE-A-BOOM Family of Products include several equipment OEMs as well as the U.S. Marine Corps and a host of specialized fleet owners and equipment operators.
The Marines used LUBE-A-BOOM lubricants to keep equipment running smoothly in both the extreme heat of Iraq and the extreme cold of Iceland. LUBE-A-BOOM is also recognized for its high performance working in coastal regions where resistance to water and saltwater is a significant factor.
OEM – Original Equipment Manufacturers
Kiefer Mfg. – Kanawha, Iowa
Kiefer has been building its name as a quality manufacturer of steel and aluminum trailers for livestock and horses for over 40 years.
Tadano Mantis – Franklin, Tennessee
Mantis cranes are known for their ability to pick and carry their entire load chart, rapidly deploy at the jobsite, and offer a wide variety of lifting configurations within a self-contained package.
Stellar Industries Inc. – Garner, Iowa
Stellar is a premier manufacturer of Tire Service Cranes and Tire Trucks, Hydraulic Hooklift Loaders, Telescopic Cranes and Mechanical Trucks, Air Compressors and Heavy-Duty Drawer Systems.
Customer Testimonials
We love this stuff!
This will be our second order of this grease, and I just felt like sharing with you.  My technicians love this stuff.  We've been looking all over for an aerosol product worth a darn, and more importantly, one we can get in California and let me tell you…this is by far the best product we have ever tried.  We are very impressed.   Application is slower going than other products, but once it's on…it last waaaaaay longer than anything else we've tried.  I am one satisfied customer, and my search is finally over.  We'll be buying this from now on.
Benjamin Ward
Service Admin & Coordinator
H & E Equipment Services
Sacramento, CA
Flaherty Equipment & Repair
LUBE-A-SHINE,  it cleans and protects like no other product I've used.   It eliminates using multiple products.  Whether polishing the trucks to get them 'show ready' or cleaning grease off of a customer's crane.  LUBE-A-SHINE is my go to!
James Flaherty
Phoenix Crane & Rigging Dyersville, IA
After 3 months of use I have finally run out of the DryFilm can.  Really surprised the amount of use I was able to get from one can. Started with the DryFilm on the outriggers. Could tell a difference right away on the  ease of extending and retracting, before they would shake and chatter  a bit when reaching full extension. Now they go in and out smoothly. Two of the companies I previously worked for used  LUBE-A-BOOM®.  After looking into other lubricants I decided to stay with LUBE-A-BOOM products.  Along with the DryFilm product, I have been using LUBE-A-ROPE, LUBE-A-GEAR, LUBE-A-PIN, and LUBE-A-BOOM in both aerosol and lubricant form on a Link Belt HTC 8650 for about 3 months now. Could not be more pleased with the results from each product and how far each can or tube of grease goes when applied properly.
Derek Emerson
Phoenix Crane & Rigging
Egan Crane & Rigging Service – Melbourne, FL
LUBE-A-BOOM works on boom sliders better than grease and lasts longer. Also, we use it on our jib pins that makes it easier to erect and they do not rust. We have been using it on our Grove cranes for the last three years.
Andy Egan, Owner
Egan Crane & Rigging Service
Imperatore Crane Rental & Rigging Services – Cranston, RI
We are proud to say we have been in business since 1946 in the Rhode Island and Massachusetts area. Over the years we have tried a lot of different products to maintain our equipment but none have compared to the LUBE-A-BOOM brand products. We now use it on all our cranes from our 5-ton Crane Carry Deck to 250-ton Cranes. We have found that LUBE-A-BOOM has outperformed all the other products we have used in the past. We even use LUBE-A-BOOM on our Landoll sliding axle and extendable trailers. Now, these products are used company-wide on our entire fleet. Thank you, Mike Flaherty at Flaherty Equipment for introducing us to LUBE-A-BOOM!
Imperatore Crane Rental & Rigging Services
All Erection & Crane Rental
The ALL Family of Companies has been using your products on our fleet of cranes for several years now. We have found them to be especially useful on our all-terrain fleet consisting of Liebherr, Grove, Linkbelt and Terex Demag cranes. Our customers expect a lot from our cranes and we expect a lot from the products that we use on them.
Larry Jeppe, Corporate Parts Manager
SLH Picker Crane Service and Piledriving – Alberta, Canada
We have been using LUBE-A-BOOM products in our fleet of National Cranes (15 to 55-ton & Grove 110-ton crane) for seven years are very pleased with the results. Temps range from 80° C to -40° C in Northern Alberta and our fleet also works in very dusty and muddy conditions. We find LUBE-A-BOOM grease holds up well under these conditions on boom sliders, outrigger beams, boom pins and rotation bearings. LUBE-A-BOOM aerosols also saves us time in lubing our booms as well; outperforming all other products.
Laurence Schindler, Parts and Maintenance
SLH Picker Crane Service and Piledriving
Advanced Overhead Crane – Crosby, TX
Finally! There is one company that satisfies all our lubrication requirements and the best part is, it is reasonably priced. Whether we need to lubricate a load cable, load chain or pinion gear, LUBE-A-BOOM has the right product for the application.
Richard Wehrmeister
Santana Crane, Inc. – Salem, OR
We use LUBE-A-BOOM because it works in all weather conditions, from cold rain to extreme heat, stopping the chatter caused by telescoping the boom in and out. The aerosol spray can allows employees to apply the product easily, making lubrication maintenance hassle-free.
John Santana
Parker Machinery – Indianapolis, IN
Along with our rigging and millwright business, our industrial forklifts and cranes share time in our rental fleet. Because of the harsh environments our fleet is subjected to, some at foundries, we have found the perfect solution for fork carriages, booms and outriggers. All equipment is prepped for jobs and rentals with LUBE-A-BOOM dry film and LUBE-A-ROPE lubricants before leaving the shop, period.
Robert Parker
Parker Machinery
Bosco Crane – Westwood, MA
When Bosco Cranes 65-ton Tadano All-Terrain Crane boom was not sequencing, they called Flaherty Equipment Repair, Inc. Upon examining the boom, Mike Flaherty found that Bosco Crane had the wrong type of lubricant on the boom. The lube they were using was too sticky for proper functioning. The boom was cleaned and LUBE-A-BOOM was applied. There have been no further problems with this boom.
Mike's Crane Service of St. Lucie County, Inc. – Port St. Lucie, FL
We own two Grove TMS 250s, a Terex T340 and a Grove TMS 500E. When we purchased our Terex T340, there was a squealing noise coming from the turntable bearing. We were using a conventional grease. We tried LUBE-A-BOOM. Since that day the noise went away. We have continued to use this product on all of our truck cranes from that day on.
Mike Beausoleil, President
Mike's Crane Service of St. Lucie County, Inc.
Crane Rental & Rigging – Sioux City, IA
At Crane Rental and Rigging, we have used lots of different greases in the past to find the right grease to keep our booms sliding smooth. We found LUBE-A-BOOM to perform to our standards in the heat as well as the severe cold. We tested LUBE-A-BOOM on our Grove GMK 5180 and Liebherr LTM1400. We found it to outperform any previous greases. We now use the product company-wide and have not seen any problems with boom wear pad wear and we have not had to re-grease as frequently as before.
Dennis Brockhaus, Service Manager
Crane Rental & Rigging
Young Electric Sign Company (YESCO) – Las Vegas, NV
The other lubricant manufacturers don't match LUBE-A-BOOM's product. The aerosol cans are convenient for our mechanics and equipment operators. With our boom truck fleet out in the field, we need a product that will last and stay on the booms longer.
Bryan Gibson
Young Electric Sign Company (YESCO)
International Crane Corporation, Inc. – Bayside, NY
In a mine in the Democratic Republic of Congo (where we battle both precipitation and dust seasonally) we see that LUBE-A-BOOM holds up very well under heavy rain and the Aerosol Dry Film lets the booms remain cleanly sliding under the dustiest of conditions.
Monty Tamer
International Crane Corporation, Inc.
WHECO Corporation, Richland, WA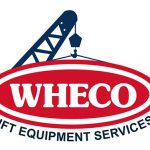 An Industry leader in engineered structural crane repair and restoration. WHECO uses LUBE-A-BOOM because it is easy to apply, maintains its consistency regardless of temperature (doesn't get firm in the cold or gooey in the heat) and it just works better than traditional boom lubricants products.
Mark Williams, Project Manager