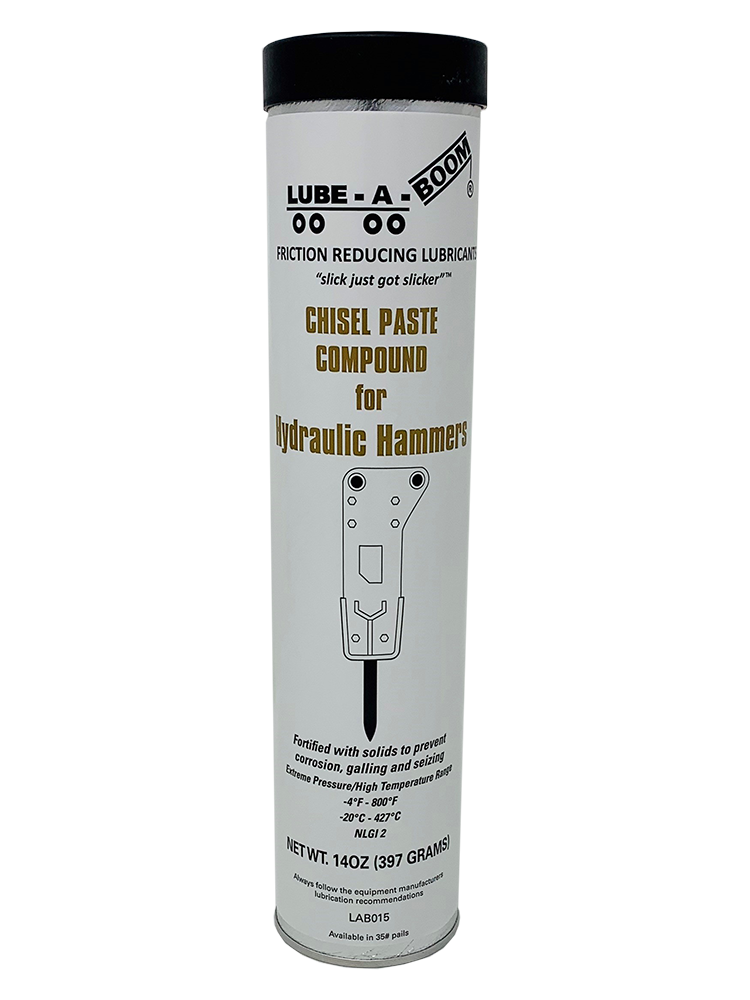 14oz cartridge
p/n LAB015/ 10 pack
LUBE-A-HAMMER paste is a truly heavy duty multipurpose hydraulic hammer/chisel paste/thread grease designed for high extreme pressure properties and excellent rust and corrosion protection. LUBE-A-HAMMER paste is designed to protect hydraulic hammers from seizing up due to extreme pressure and heat along with protecting threads even in the harshest water washout conditions including salinity and salt fog.
Our LUBE-A-HAMMER paste is formulated to lower friction and improve tool life in the extreme environments encountered with hydraulic hammer applications. Special additive technology and highly refined petroleum oils gives high film strength under EP conditions with good oxidative and thermal stability. Specially designed calcium sulfonate complex structure provides high dropping point, mechanical and thermal stability with excellent corrosion protection.
LUBE-A-HAMMER paste has exceptional resistance to water wash and extremely low oil bleed characteristics insuring protection at high temperatures, high pressures, and radial forces. Significantly slows wear and prevents seizing. LUBE-A-HAMMER paste will cling to parts under high temperature, wet conditions and high shock.
LUBE-A-HAMMER paste is specially formulated with anti-seize compounds in order to assure smooth and continuous pipe breakouts.  It is fortified with high purity graphite, copper, and specialized boundary lubricant used to prevent welding, galling, and spalling of pipe threads used in drilling and mining applications.
Applications
LUBE-A-HAMMER paste is ideal for lubricating hydraulic hammers, breakers, chisels, and pipe threads in high heat and moisture applications.  It can also be used in low- moderate speed bearings, roll neck journal bearings found in Paper & Steel Mill operations.  Excellent for heavily loaded hinge pins, splines, couplings, CV and universal joints.  Use on rolling mills, slabbing mills, truck chassis, wheel bearings; also general lube points on track rolls of heavy duty construction and earth moving equipment.
Benefits
Water and saltwater resistance
Resistance to Water Washout
Protects against rust and corrosion
High Extreme Pressure Properties
Excellent Shear Stability:  Will not thin down due to heat or shear, even with heavy water wash.
Excellent Thermal Stability
Reduces maintenance intervals
Clings on even under high pressure, high shock, wet conditions
View Safety Data Sheet
Download our complete Product Brochure
Download Product Weights & Dimensions Chart
LUBE-A-HAMMER can be purchased through our dealers nationwide.