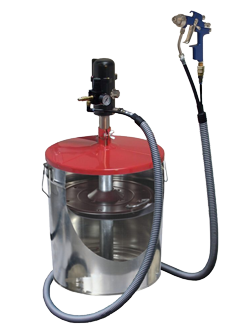 Static for Kegs
p/n LAB3375720

Static for Drums
p/n LAB3370121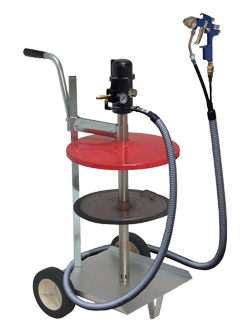 Mobile for Kegs
p/n LAB3375621

Mobile for Drums
p/n LAB3370008
LubeJet

pneuMATO 55 by MATO GmbH
This pneumatic grease spray unit enables the spraying of LUBE-A-BOOM or LUBE-A-PIN grease directly from a 120lb Keg or 400lb Drum without the need for propellants or chemical additives such as solvents. Adjustable grease flow, volume and spray pattern for precise spraying and uniform surface coating. Available in both a static and mobile version. Reduce grease costs, less mess and applies faster. A cleaner solution for lubricating telescoping booms and other applications.
Benefits
High quality – Durable, Made from Stainless Steel
No need for mops and grease buckets
Reduce grease costs
Faster and more efficient
Adjustable nozzle provides complete control for precise spraying
Compressed air spraying unit – no propellants required
Unique twin-hose design for convenient delivery of air pressure and grease
The clean solution for lubricating telescoping booms and many other applications.
View Safety Data Sheet
Download our complete Product Brochure
Download Product Weights & Dimensions Chart
LUBEJET pneuMATO 55 (Static & Mobile) by MATO GmbH can be purchased through LUBE-A-BOOM
dealers nationwide.
*Not for use with silicone pastes without lubricating properties or containing abrasives.