ICUEE Show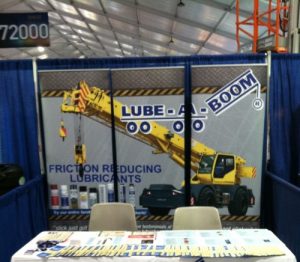 LUBE-A-BOOM® is excited to announce that we will, for the first time, be attending the International Construction and Utility Equipment Exposition ("ICUEE") October 3-5 in Louisville, Kentucky. ICUEE is better known as the Demo Expo, and according their website, is "the premier event for utility professionals and construction contractors." This show is a great opportunity for LUBE-A-BOOM® to meet and mingle with many customers, field operators, fleet managers, and engineers in the industry. We certainly are looking forward to seeing some familiar faces there, as well as the chance to meet many new folks that are in the industry.
ICUEE is an important show for LUBE-A-BOOM® to attend because our superior lubrication products are extremely compatible, and would be incredibly useful, with many of the equipment used by other vendors and ICUEE attendees. In fact, our entire family of products would be of great value for nearly all of the ICUEE vendors and attendees. Aside from the opportunity to network with many fellow professionals in the industry, and give them the chance to see what LUBE-A-BOOM® is all about, we will also be unveiling and showcasing our newest product, LUBE-A-SHINE™. This is an exciting chance to be a part of LUBE-A-BOOM®'s first ever public reveal of a new product. Attendees will even have the chance to sample LUBE-A-SHINE™ and see just how effective it is.
Not only is attending the ICUEE a fantastic opportunity to meet LUBE-A-BOOM®, but it is also a great chance to interact and network with other vendors in the industry. We highly encourage all of our dealers and loyal customers to attend the ICUEE. Details can be found at the following link: http://www.icuee.com/
If you plan on attending ICUEE and would like to meet LUBE-A-BOOM®, we will be in ICUEE Booth 4643. So mark your ICUEE maps and come find us! For all other inquiries, or if you would like to learn more about our newest product, LUBE-A-SHINE™, or any of our family of products, visit www.lubeaboom.com or contact Jo Roberts at sales@lubeaboom.com or at 317-578-3961. Until our next time, remember that "slick just got slicker" ™ with LUBE-A-BOOM®. Visit our website for continued updates, and contact your local LUBE-A-BOOM® dealer for all your product needs.